Cross Country Skiing & Downhill Skiing & Snowmobiling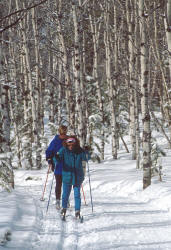 Nipawin in the winter has many more popular recreational activities. Cross country skiing, and downhill skiing with ski trails and hills located in the Nipawin Regional Park & .
Wapiti Ski Hill a popular downhill resort located +-40 kilometres to the West of Nipawin. Nipawin and area has 250 miles of snowmobiling trail that is groomed and signed each year. The Peace 100 Snowmobile Rally attracts 300+ riders annually.

Nipawins Centennial and Jubilee Arena Complex provides ice for skating, and there are two outdoor ice skating facilities. Nipawin also has a curling facility and hosts well known tournaments and local leagues. For Nipawin & surrounding are snowmobile Trails Click here.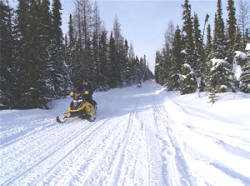 Nipawin has incredible snowmobiling terrain. The trails are kept groomed and well marked. Many of the trails are accessible from the bypass route in Nipawin. These trails surround Nipawin and lead to trails north and south of town, boasting beautiful alpine and woodland trails.
South of Nipawin the landscape consists of farmland and forest and trails lead north through forest and is a photographers dream.
Local lakes become popular to snowmobile they freeze over. Snowmobiles are permitted on almost any street in Nipawin, you can ride directly from motels or gas stations all the way to the bypass and onto a trail, and there is no problem finding a snowmobile to rent in Nipawin. «